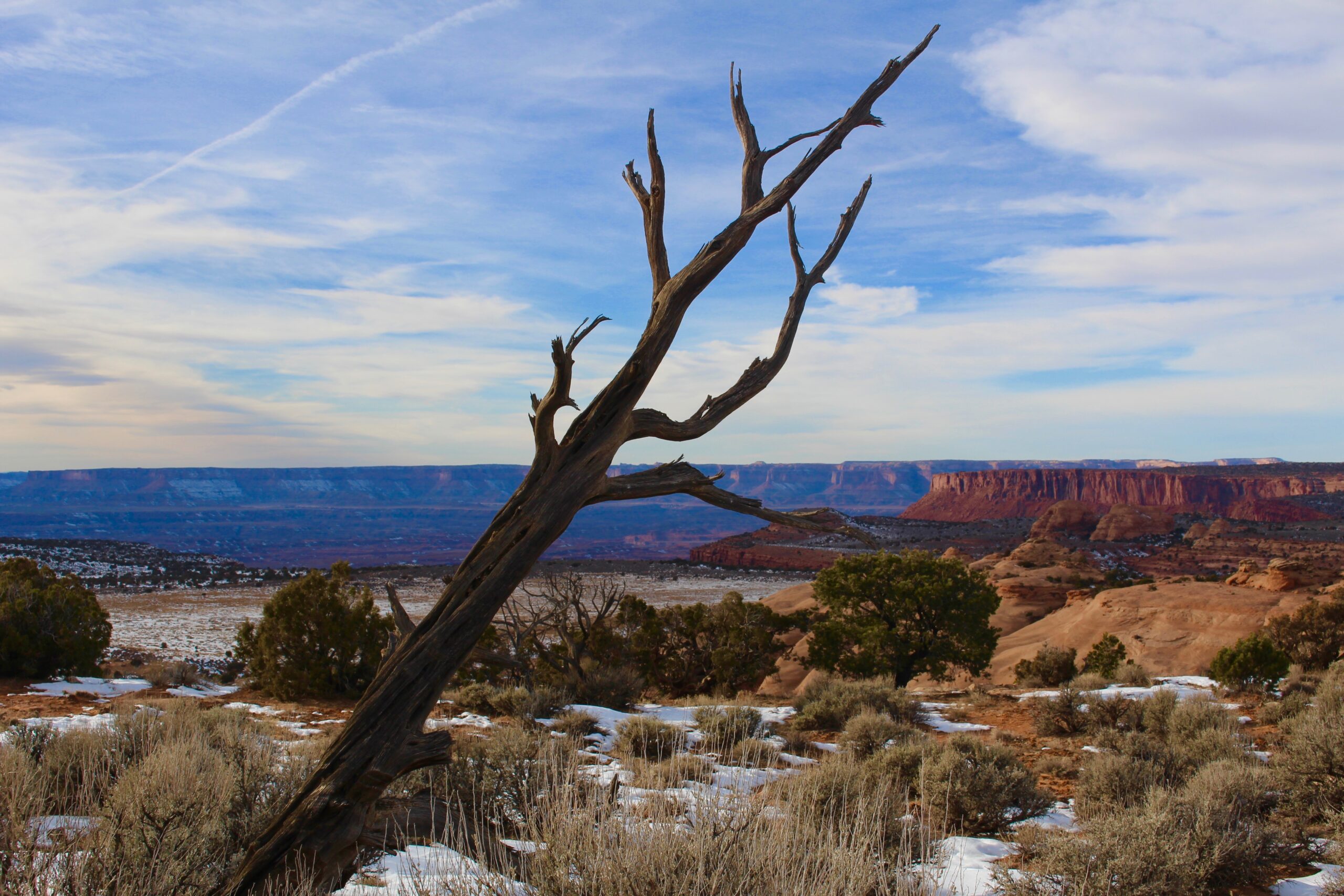 The Top 15 Most Epic Things To Do In Moab
Put on your hiking boots and get out into nature.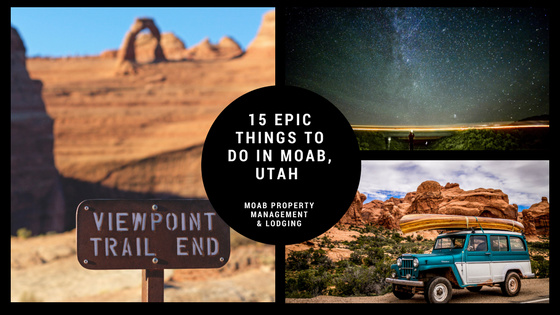 Breathtaking mountains, stunning sunsets, a geologist's playground, the dinosaurs' roaming grounds, roaring rapids, a hiker's paradise, and overall outdoorsy vibes… there is no place quite like Moab, Utah.
It doesn't matter who you are, what you do, or where you come from, the various things to do in Moab will leave you with so many beautiful memories that your brain won't know what to do with them.
Moab is a vacationer's dream all year round.
Below you'll find our top favorite things to do in Moab broken up by seasons– Moab is the place we call home, the place you'll remember forever.
Stay Cool – Top Things To Do In Moab In The Summer
1. Get lost in the rapids – White Water Rafting
Nothing beats the heat like a white water rafting excursion. Raft the mighty Colorado River while viewing the Red Rock Canyons. These trips are easily accessible from Moab, and there are a ton of options to fit first time rafters, to experienced adventure seekers.
There are half day, full day and multiple day excursions with camping options.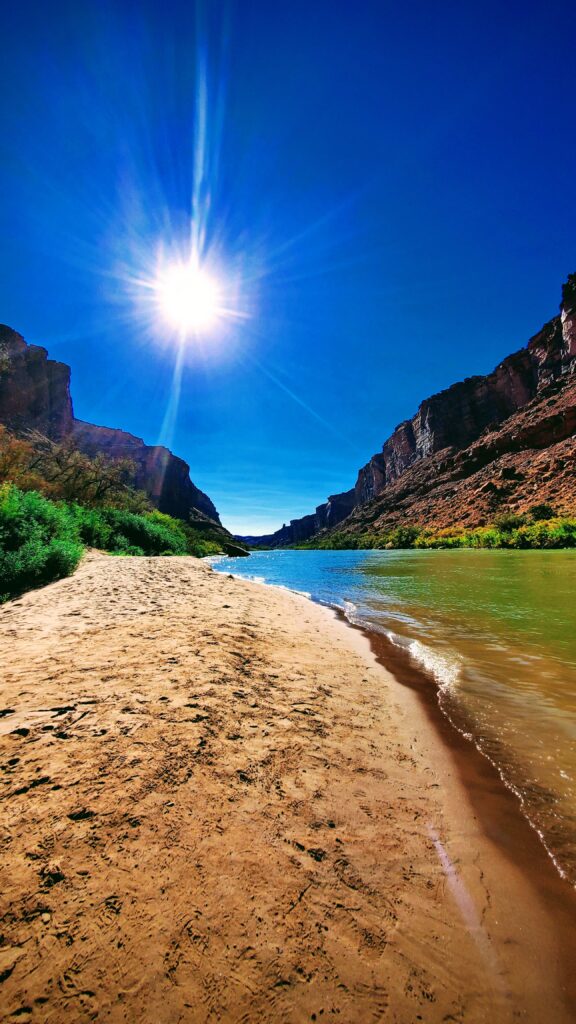 2. Get up, stand up – Stand Up Paddle Board Tours
Moab Adventure Center says it perfectly, "Originating in the Hawaiian islands, stand up paddleboarding (SUP) is now one of the fastest growing watersports in the world! Since most people get the hang of it after a few minutes of instruction, stand up paddle boarding is enjoyed by all ages. Whether it's your first time paddle boarding or you're a regular, we think there's no better place to experience a stand up paddle board tour than the calm waters of the Colorado River in Moab, Utah. Every bend in the river reveals a new breathtaking view- towering red rock cliffs, sandstone domes and perhaps sme riverside wildlife."
Ken's Lake is a great place to go paddle boarding, the specific location is below!
Kens Lake, Spanish Valley, UT 84532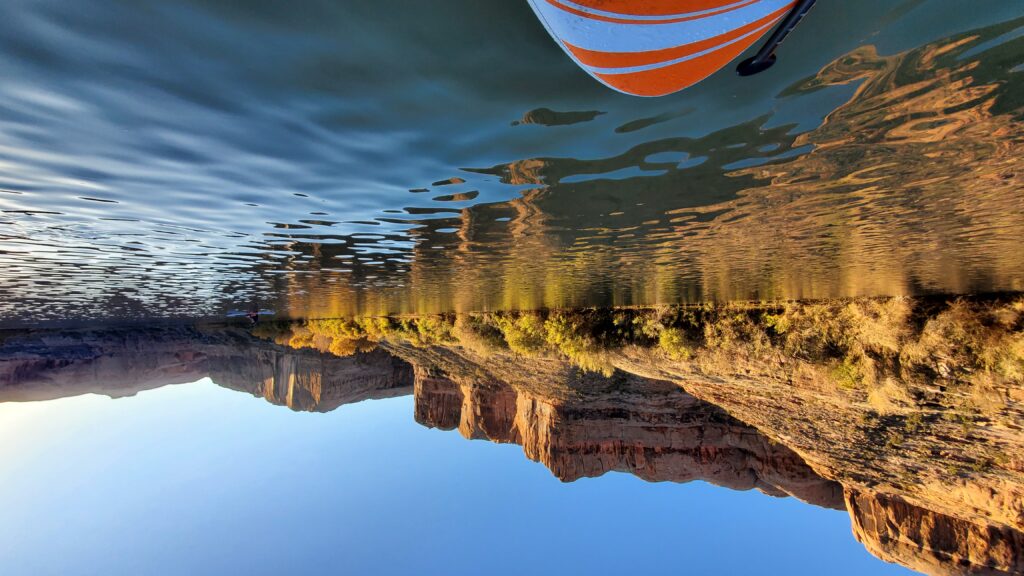 3. Be A Stargazer – RedRock Astronomy
There is nothing more romantic on a warm summer night than getting out and admiring the Universe while star gazing. This is a truly unique and breathtaking adventure that anyone will appreciate.
In this 2 hour excursion you will see a variety of beautiful objects in the sky depending on the time of year. Planets in our solar system are among the top favorites, especially Saturn and Jupiter! You'll also see Star Clusters, Galaxies, and Nebulae, even the iconic band of the Milky Way Galaxy; only visible in areas like ours with very dark skies.
People come all over the world to stargaze in Arches national park. There is nothing cooler than seeing the full moon hovering in the middle of the arch. Photographers from all over come to shoot it.
Seriously – look at this photo! It's insanely beautiful.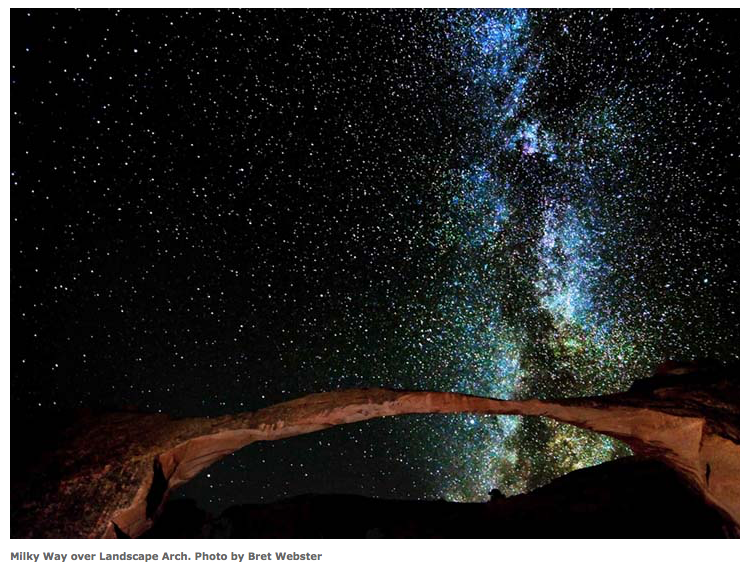 4. Get Out, Rock Out – Go Canyoneering
Canyoneering is one of the most epic things to do in Moab.
Canyoneering combines rock climbing, repeling, and hiking in one great experience. And many adventures are suitable to people new to the sport. You repel down the side of a canyon and then hike out of it!
It's the sport of enjoying a canyon.
During canyoneering you can experience rappelling, waterfall jumping, rafting and more depending on the trip.
We have great guided canyoneering trips in Moab.
Chamisa Canyon and Fiery Furnace are popular canyons for newbies. Rock of Ages is a great canyon for the more experienced. You can check it out and explore your options at the link above!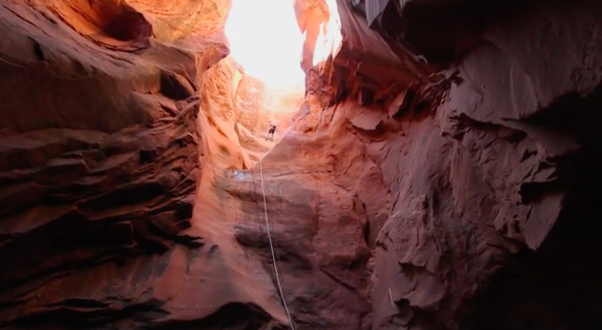 5. Zip Into Adventure – Zipline In Moab
What better way to experience the views of Moab than to be on top of them look down while the breeze of zip lining cools you off.
The heights range from 300 feet to 1,500 feet.
Check out this video on Raven's RIm website that will show you all of the cool things you'll experience on a zip lining excursion.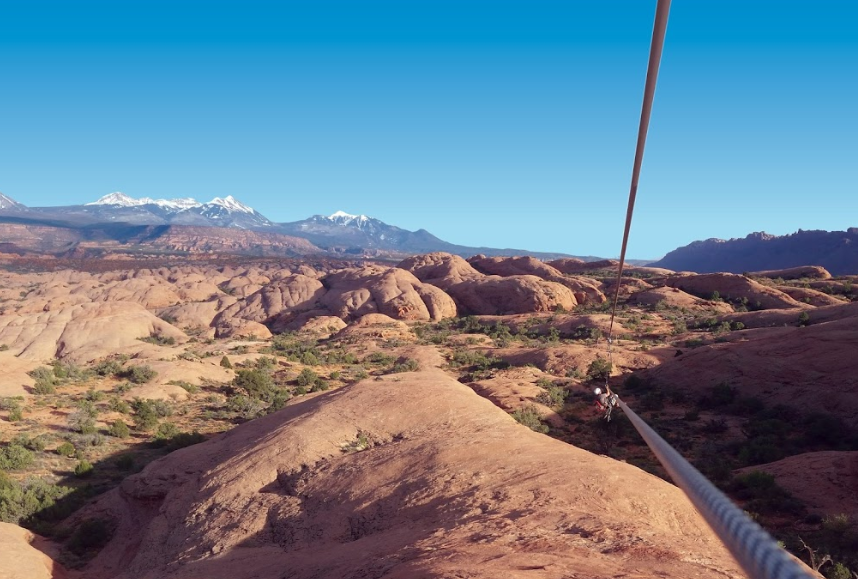 Fall In Love With Moab – Top Things To Do In Moab During The Autumn Season
6. Horses + The La Sal Mountains
Crisp air, open range riding, the La Sal Mountains, we can't think of a better way to spend a nice fall day. Whether it be a girls trip, a romantic ride with your partner, or a full family adventure, you sure don't want to skip out on this.

7. A Rock Climber's Holy Ground
Don't let the small town vibes fool you. Moab is no joke. If you're a climber then you have to get your butt out here. Don't just talk the talk, walk the walk…or climb the climb, rather. Let's see what you're made of.
Climbing.com has a great piece on rock climbing in Moab, equipped with a map and various schedule options.
Here is a snippet:
"You can find climbs ranging from single-pitch sport at Potash Road to hauntingly beautiful tower climbs on Moses and Zeus in Taylor Canyon to big adventures on the Titan (at 900 feet it's the largest freestanding tower in the country). Bring your rack, your friends' racks, and your friends' friends' racks for the endless sinker splitters at Indian Creek, and don't forget a pad or two for small stones throughout the area: Big Bend has enough bouldering to keep you busy for a few days, but recent development has opened boulderers' eyes to new possibilities in and around Moab. The options ma seem boggling, but one thing's for sure– you will leave Moab with some of the best climbing memories of your life and a burning desire to return."
Of course you can climb at anytime of the year, but climbing makes our list of top things to do in Moab in the fall as the temperature and the rocks are at there best. Moab's unique and varied climbing environment is unlike anywhere else in the world.
The map below is featured on Climbing's website. For more information and the full article click here.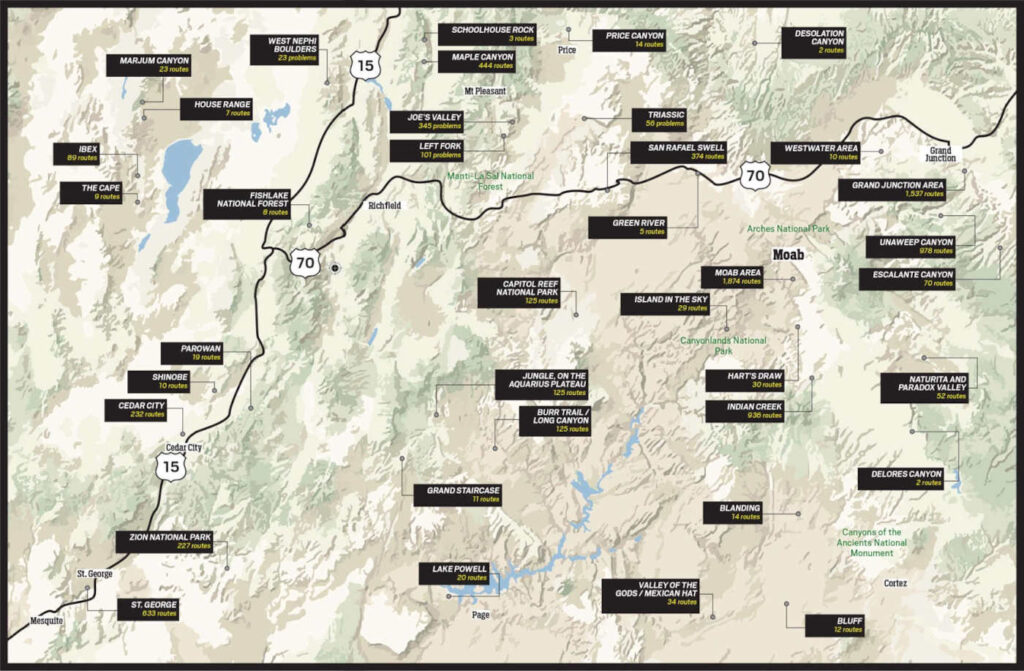 8. Get Picturesque – Petroglyphs and Pictographs
Moab has really cool history. Rock art was made by prehistoric and historic people over thousands of years.
Paleo-Indians are known to have inhabited the land first. Their drawings and writings can be found on various rock formations to this day.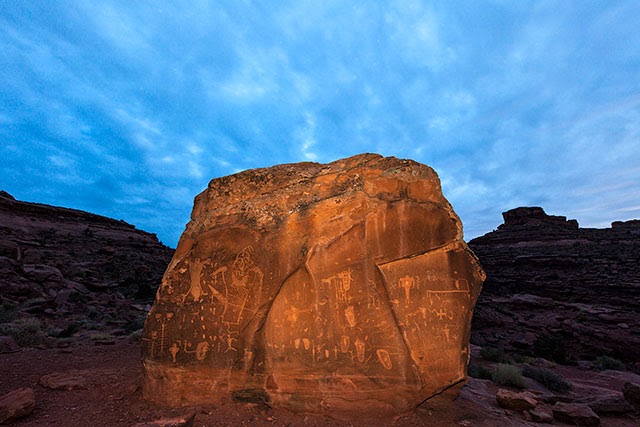 A Winter Paradise – Top Things To Do In Moab In The Winter
9. Backcountry Skiing in the La Sal Mountains
Moab ought to be on your radar for the winter. Less crowds, beautiful snowy whether, and epic scenery. If you're wanting to skip out on a pampering vacation and seek out adventure– backcountry skiing is where it's at.
We love this article from UtahOutside.com that details 5 awesome backcountry ski routes. Check it.
Here are the 5 routes.
South Mountain Glades
Corkscrew Glades
Mount Tukuhnikivatz
Haystack Mountain
Mount Mellenthin
Backcountry skiing is dangerous. Go prepared, do your research and know what you are doing before you head out.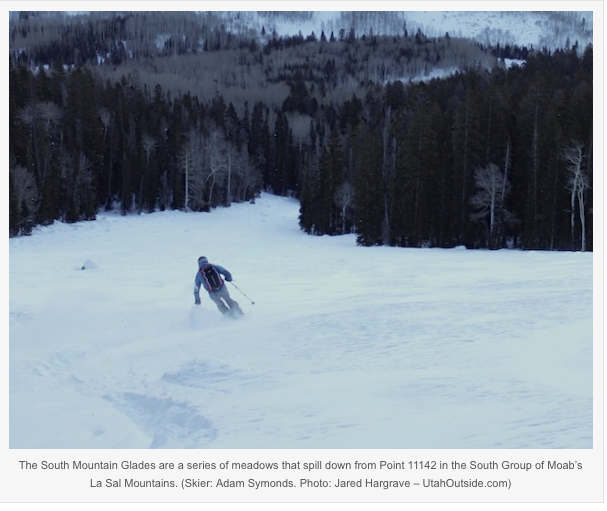 10. Disc Golf At Basecamp
RootsRated outlines 7 top things to do in Moab in the winter. You can't forget about Disc Golf.
Moab has one of the three most extreme disc golf courses in the world. RootsRated says that the general advice for this course is: "Don't go left on 1 or right on 5 unless you can swim. Don't go right on 14 unless you can fly!" Base Camp is open all winter long. Snow here melts incredibly quickly and we stay pretty dry here. This is a private course with an entry fee of $5.
Thanks RootsRated for the great idea!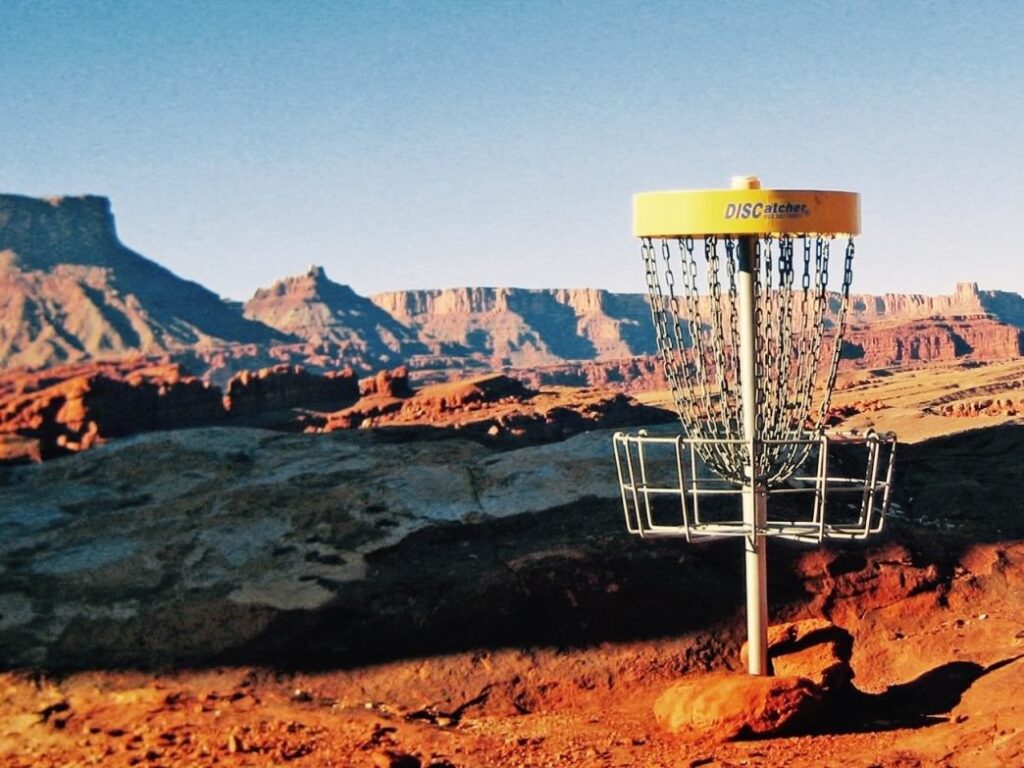 11. Snow Biking Porcupine Rim
If you're an intense, badass biker then you've heard of Porcupine Rim. It's a 14.4 mile classic Moab mountain biking trail. The Porcupine Rim starts 7 miles into the Sand Flats Recreation Area, ascends to the rim overlooking Castle Valley and then descends to River Road, eight miles from town.
This trail is for the advanced rider and takes about 3-5 hours to complete.
Shuttling is a good idea. Drive one car up top, and leave one in town– unless you are too hardocre for that. 🙂
Moab has great bike rental shops in town, such as Poison Spider Bike Rentals, that will get you all hooked up.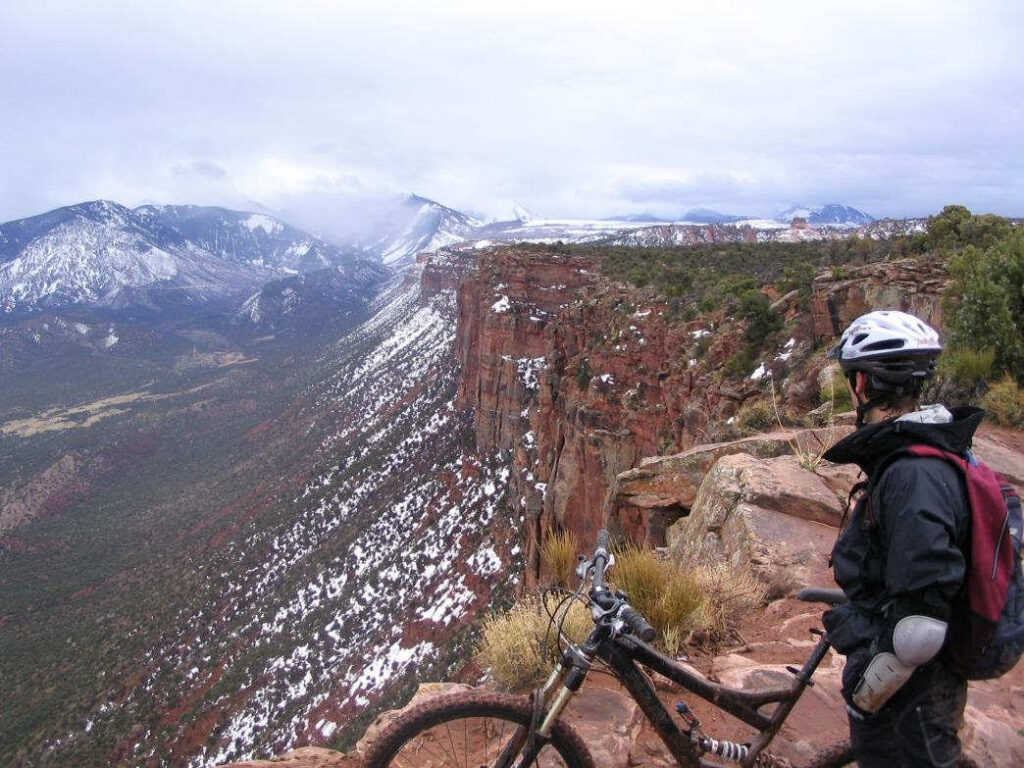 Spring Into Adventure – Top Things To Do In Moab In The Spring
12. Who says parks are for kids? Here, they are for all ages – Hike Our National Parks
Outdoor enthusiasts from all over trek in to experience some of the most epic national parks in the history of ever.
Arches and Canyonlands.
Hike, bike, drive…whatever floats your boat, but you do not want to miss out on these two natural beauties. Known for their incredible rock formations, breathtaking views, and challenging terrain. You'll want to pack your backpack and just go. Part of the Mighty Five National Parks in Utah, Moab is homebase for Arches, Canyonlands, and possibly Capitol Reef. And Zion and Bryce Canyon National Parks are just a few hours (4-5) away.
Canyonlands is a bit less developed and split into three different sections: Island In The Sky, The Maze and The Needles. These maps will quite literally map everything out for you 🙂
Canyonlands By Night & Day has some pretty epic adventures that you can plan for. They have been operating tours for over 50 years and can provide you with a whole lot of guidance! As they say, "Brace Yourself!" You are in for a heck of an adventure.
Arches is a bit more family friendly, because you can haul your kiddos in the car and drive to different locations. They have several hikes ranging from easy to difficult in order to suit all outdoor adventurers.
There are over 2,000 arches in the park. These impermanent formations are truly something special. Learn more about how they are formed and how they will eventually disappear. Please note: Arches National Park has limited hours and some closures in 2017 in order to expand the entry lanes. So before you book your trip, make sure they are open!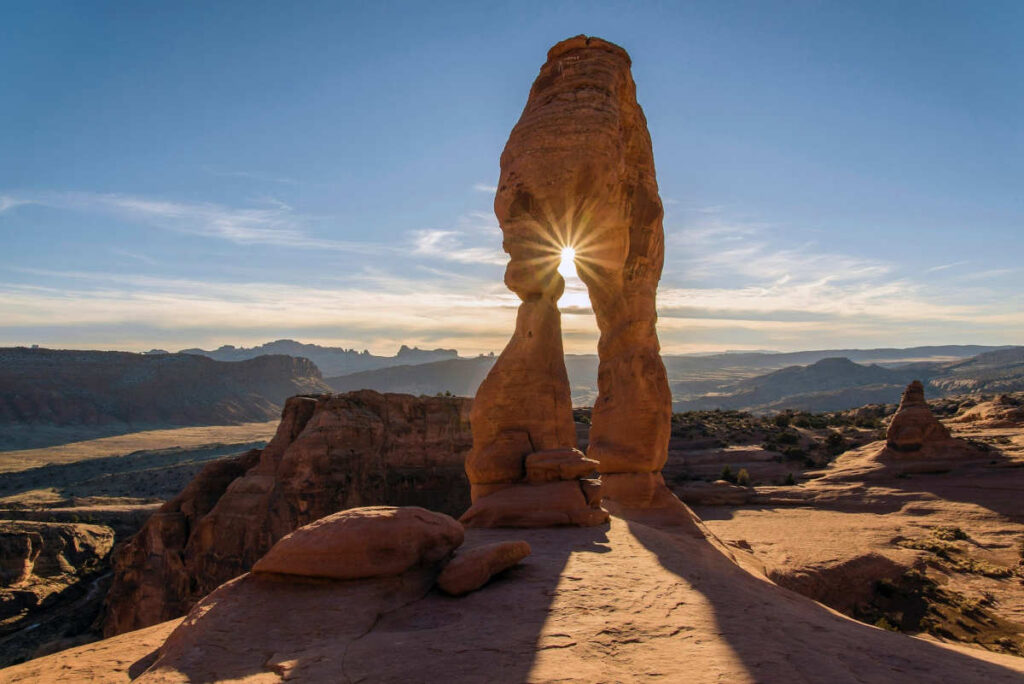 13. Get Down With Dinosaurs
Go prehistoric, and stomp around the Dino's old roaming grounds. Yes, you heard that right. The Dinosaurs roamed our beloved land!
Moab Giants is a great place for all ages to explore. Their state-of-the-art dinosaur exhibits feature the dinosaurs who roamed our area and their tracks, which are found in abundance around Moab, Utah! If you ever wanted to get down with the dinosaurs, you'll get closer than ever!
If museums aren't your thing and you'd prefer to be out in nature then check out trails where you can find dinosaur tracks.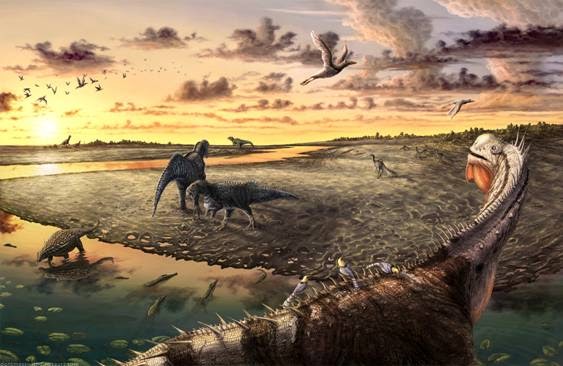 14. Take The Ride Of Your Lifetime–Mountain Biking
Moab, Utah has some of the absolute best ever mountain biking. It's not for the faint of heart. However, if you aren't a pro yet, no worries! There are trails for all ages and skill sets, as well as opportunities to enhance your riding abilities. The instructors at Moab Mountain Bike Instruction will work with you to prepare you for some of the most challenging, dangerous, and beautiful mountain bike rides of your life.
Here is a list of mountain biking trails that will tell you the distance, difficulty and type of ride.
If you don't have a mountain bike you can rent one at local bike shops here in Moab such as Poison Spider Bike Rental or Chili Pepper Bike Shop.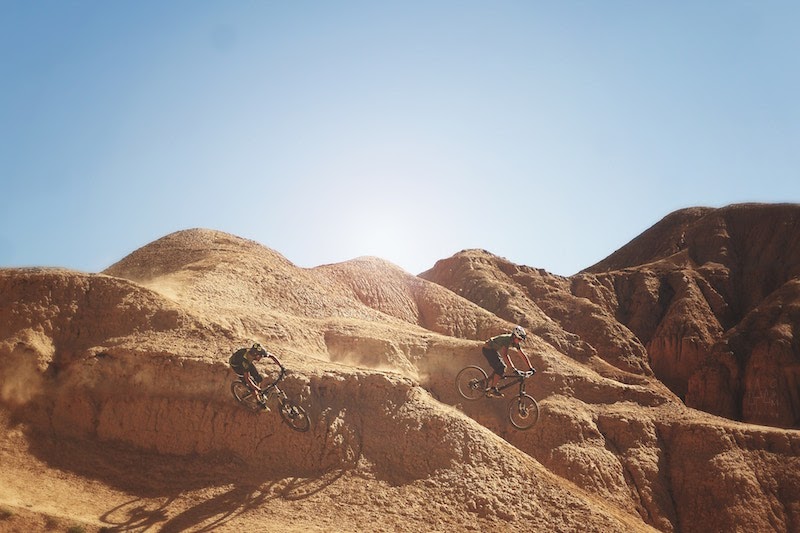 15. Pedal To The Metal– Jeeping & Side By Sides
Our mountains, and rock formations are pretty epic, but we've covered that already. So let's talk about two other ways to get up close and personal with them: Jeeping and side by sides.
You can probably guess what both are.
Jeeping is where you take your souped up Jeep up the side of a cliff, mountain or large obstacle. Yes– that's a thing; a huge thing! Ever heard of Jeep Safari? People from all over flock to Moab with their Jeeps and hit the trails. Check it out.
Side by sides (side x sides) are also known as dune buggies, Razors, Rhinos, or Wildcats – if that's the brand you have. Here, we call them side by sides.
We have side by side trails all over Moab and these little dudes fill our streets. One of the most invigorating things to do in Moab is take one of these babies up the side of a big rock formation.
You can watch some cool videos and get more information here.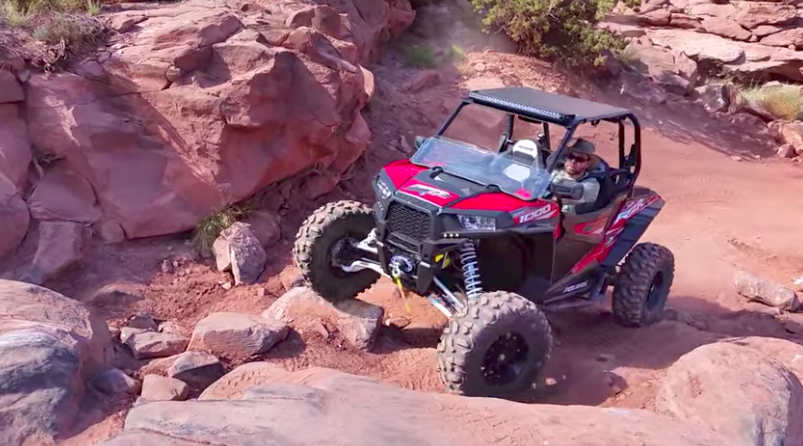 Fun fact: We are Moab Property Management & Lodging. We do everything in our power to ensure a fantastic stay, and have a local office dedicated to making that happen. We also want to make sure you have an EPIC time here in the Moab area. We love this home of ours. We want you to love it too. You truly can't be bored here unless you choose to be. We hope you found a couple of things on our list of The Top 10 Most Epic Things To Do In Moab. Happy adventuring!
P.S. If you have a property here in Moab that you would like us to manage, then check out what we do. If you are looking for a place to stay then take a gander at our properties! 🙂