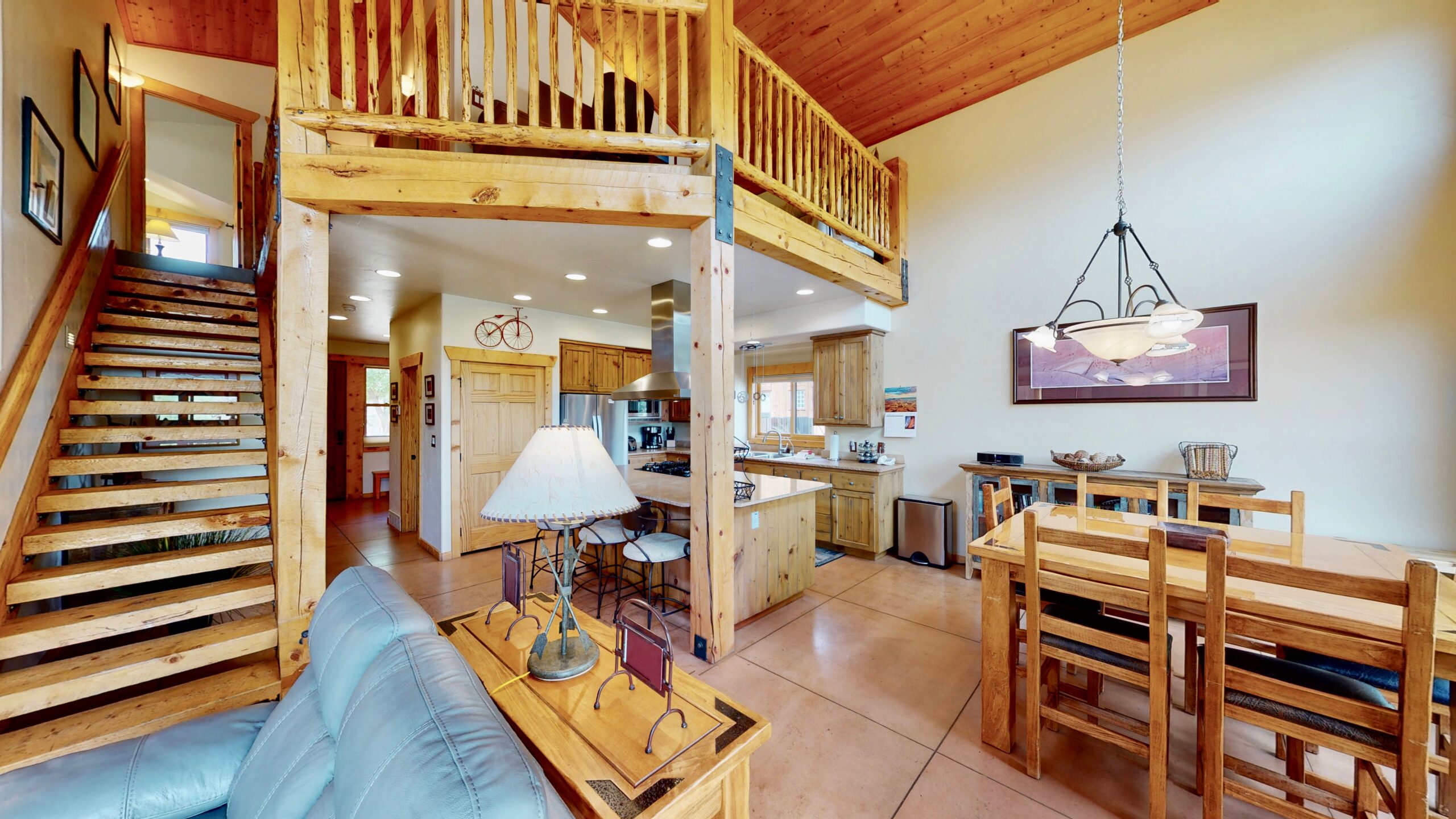 Moab Hotels vs Condo Rentals
Time for planning your vacation! It is also time to decide whether you want to stay in a hotel room or a condo when you are visiting Moab. Whether you are a vacationing family, a group of friends on an outdoor adventure, or several couples traveling together, a condominium unit from Moab Lodging offers more space and flexibility, plus saves you money over hotel rooms.
Moab Hotels
Hotel rooms are much smaller than a condo and the space for relaxing and entertaining is very limited. Most hotel rooms provide one or two chairs and a small table where you can eat a snack or the left-overs you bring from your meal at a restaurant.
This is not the case with condos! Condos offer much more space than a hotel room and provide you all the comforts of a home away from home. When you stay in a luxury condo, you'll usually have two or more bedrooms and two or more bathrooms. In addition, you'll have a kitchen, a dining area and a comfortably furnished living room where you can congregate and entertain. Many condominium units also furnish an area where your children can play outside, which is a benefit that a hotel will not offer. And in most cases, you'll save substantially on the nightly cost per person by staying in a condo instead of a hotel room.
Moab Condo Rentals
Moab Lodging has a wide range of lodging units to meet your needs and budget, everything from 1-bedroom economy apartments, to 2- & 3-bedroom luxury condos, to stand-alone homes. All of our units have a full kitchen with refrigerator/freezer, cooking range, microwave, and coffee maker, plus all the dishes, utensils, and cookware needed to cook and "eat in" as often as you choose. Many guests especially enjoy the chance to have their morning coffee and a relaxed breakfast at home, with no need to rush.
If your Moab condo rental is located in a luxury condo complex**, you'll have an enclosed garage, which is great for safely storing your recreational toys and vehicles. You'll also have a private patio with lounge chairs, barbeque grill, and picnic table, and a clothes washer and dryer in your unit. In addition to all this, you'll also enjoy use of the amenities of the condo complex, which may include a shared swimming pool and/or a hot tub. Some of our luxury condos even provide a private hot tub.
If you stay in one of our economy one-bedroom apartments**, you'll still have some great amenities. These may include a grassy yard, a shared outdoor hot tub, and a shared barbeque grill and picnic table. Economy units are typically less luxurious than Moab condo rentals, yet clean and well maintained, and they offer a living/dining room, fully equipped kitchen, one bathroom, and one bedroom.
**Please read the complete description of the rental unit and view all photos so that you will understand the features and amenity package offered with the exact accomodation you are renting.
Moab Condo Rentals Give You Flexibility
We at Moab Lodging focus on optimizing your vacation experience. By staying in a condo rental, you have lots of flexibility in your vacation lifestyle.
Rather than be limited by a cramped hotel room, you'll have the space to settle in and entertain. Invite friends over for a barbeque on the patio, or a sit-down dinner– it's all possible with your Moab condo rental!
Another big advantage of a condo is that, like your own home, you can use it for many activities at the same time. In addition to a TV in the living room, many of our condos have a TV in one or more bedrooms, so the kids can watch TV or play board games in a bedroom while adults have a gathering in the common area.
With multiple bathrooms in your condo, everyone has more flexibility and will spend less time getting ready for the day or cleaning up after a hike or river trip. And with multiple bedrooms, children and "morning people" can retire early, while "night owls" can stay up late without disturbing anyone.
Finally, what better way is there to optimize your vacation experience than to sit outside on your private patio and gaze at a glorious desert sunset or relish the thousands of twinkling stars in the night sky as you wind down with a glass of wine?
Moab Condo Rentals Save You Money
Moab condo rentals help you make the best use of your vacation dollar. If you have a large group or family, you'll save money by renting a condo vs. renting several hotel rooms.
Instead of renting two hotel rooms for your party of four, rent one 2-bedroom condo. In peak season in Moab, you'll pay about $150/night per room for a nice hotel. That's $75/night/person. We can put the four of you in a 2-bedroom luxury condo at the golf course area for about $180/night—just $45/night/person—a total savings of $120/night. Not only will each couple have their own bedroom, but you'll gain a full kitchen, a garage, a living/dining room, and a private patio. In addition you'll save on food by being able to cook in your own kitchen, and save on Laundromat expense by washing your clothes in the unit.
Some of our Moab condo rentals sleep up to 12 people, but more commonly, our luxury condos sleep a maximum of 6 or 8 people and most of our economy units sleep a maximum of 4 people.
So, when deciding where to stay for your Moab vacation, don't forget that a condominium unit has big advantages over hotels. You get a lot more space, much more lifestyle flexibility, and you can save a considerable amount of your lodging dollar by renting a condominium.

Please note: Prices listed below are Starting From: and representative of an average stay during slow season. Until you enter your dates and party size rates are for comparison purposes only.